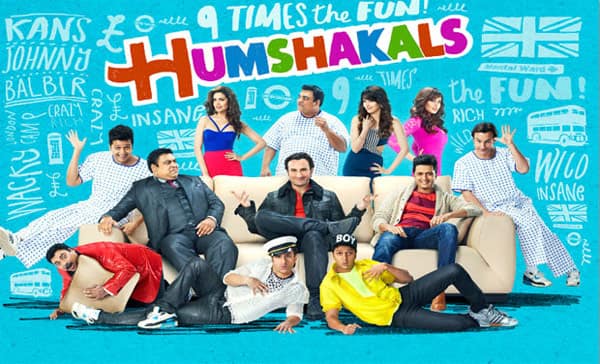 After Himmatwala, Sajid Khan returns with

Humshakals

which is out-an-out a comedy and stars Saif Ali Khan, Riteish Deshmukh, Ram Kapoor, Tamannaah Bhatia, Bipasha Basu and Esha Gupta. As expected, this multi-starrer is nothing but a typical Sajid Khan film with over-the-top comedy. In fact, the first half is so boring that you'll regret stepping into the theatre. Before the interval there are hardly any good comic punches. And though the second half is way better and managed to tickle my funny bone, the film fell flat again courtesy a drab climax which reminded me of Housefull . Yes, Sajid has experimented by bringing in the 'triple role' element but sadly it does nothing for the film as far as entertainment quotient is concerned.

What's it about:
Ashok (Saif) is a business tycoon who is filthy rich. When I say filthy, I mean he goes back home in his chopper. Kumar (Riteish) is Ashok's chaddi buddy and the duo is almost inseparable. Though Ashok is a millionaire, he wants to make it big as a stand-up comedian too. But the problem is – he sucks at it big time. So while Ashok is happy cracking boring jokes, his best buddy Kumar is tired of listening them. Well, that pretty much sums up the first 20 minutes of the film. Then enters Ashok's Mamaji (Ram Kapoor). He is conniving and desperately wants to take over Ashok's dynasty. Hence he plans to prove that Ashok is mentally unstable. And he almost succeeds in his mission. While Ashok and Kumar end up in a mental asylum, their humshakals are locked up in another ward of the same asylum. Coincidentally their names are also Ashok and Kumar. What happens next? Well, you'll have to watch the movie to find out…
What's hot:
Apart from the three ladies – Tamannaah, Esha and Bipasha, I found Riteish quite hot as well. I am serious… he looks stunning in second half when he dresses up like a woman. Even when it comes to acting, Riteish is the one who stands out from the lot. It's not surprising coz comedy is his forte. His expressions are bang on and I am pretty sure he was the only reason why many people didn't walk out of the film midway. Ram Kapoor has also done justice to his role. Not to forget, his bikini stint in the film is super hilarious. As for Saif, he is strictly okay. There is nothing much to boast about his performance. Coming to the story, it's a Sajid Khan comedy so you can't expect logic. From mind altering drugs to stage 3 OCD to plastic surgery, Farah Khan's brother surely doesn't believe in making meaningful films. But that's okay coz Humshakals isn't that bad. There are some solid rib tickling comic punches and the slapstick comedy is also good but in bits and pieces. Also, Sajid has taken a dig at his film Himmatwala which I totally loved. In fact, he has poked fun at Farah's film Tees Maar Khan too and its genuinely funny. Lastly, the best part is when the credits roll. You get to see behind the scenes bloopers and trust me if Sajid had incorporated it in the film, people would have given thumbs up to Humshakals.

What's not:
From acting like dogs to behaving like 5-year olds and then finally dressing up like women, you get to see Saif and

Riteish

doing all of it in this one film. So after a point it's just annoying and not funny at all coz too much happening at the same time. Also, none of the female actors have prominent roles. They are just eye candies to feast on. It would have been better if Sajid hadn't got them on board in the first place. There is Chunky Pandey too in the film but his role is absolutely irrelevant which is sad. However, the biggest disappointment is the music of Humshakals. It's just plain blah. Period!

What to do:
Sajid Khan's new film isn't as funny and entertaining as Housefull or Housefull 2 however it wouldn't hurt if you watch it once. But keep your brains aside and I am sure you'll have fun.
Our Rating ; 2/5