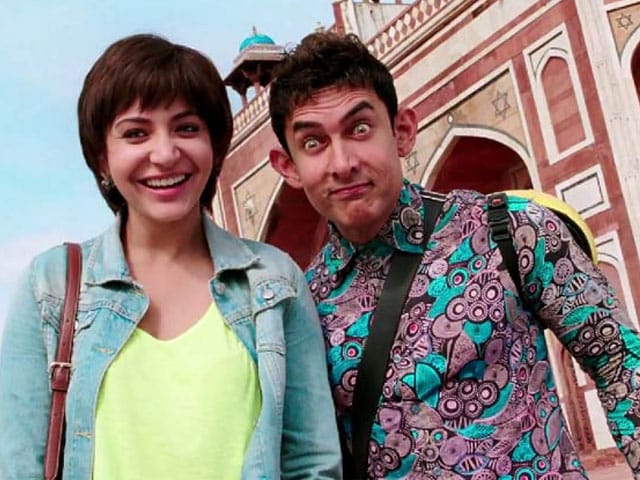 Aamir Khan's much-awaited release is finally here and we are going gaga over it!Forget every big film that you have seen this year and just watch PK for it is brilliance!
Aamir Khan is an alien who gets stranded on planet Earth with nothing on him, not even clothes. All he has is a remote to control his spaceship but the minute he lands on Earth, the remote is stolen away from him (surprise, surprise!) A series of events make Aamir (who is eventually called PK because his antics make him seem a drunkard) seek God, bust myths created in this world by the "managers of God" and most of all present the Almighty in a whole new light! The film does look at crucial topics like religion, discrimination, flamboyance of idol worship, unsuspecting public's belief in 'God men', but never does it become a boring and preachy lecture on the same.
Well, this could go on for a while. Firstly, a big round of applause for Aamir, Rajkumar Hirani and Vidhu Vinod Chopra for making this story and giving us a grand family entertainer with some food for thought! PK will make you ask the pressing question, "How does Aamir do it!" The star has proven his mettle yet again and I couldn't have pictured anybody but him as the weird, quirky yet endearing PK! Anushka Sharma lights up the screen as Jagat Janani. Although hers is a supporting role and not exactly the lead, but without her the story of PK wouldn't have been half as enriching. Sushant Singh Rajput, in all his understated glory, does a remarkable job as Sarfaraz and proves that length of a role doesn't define quality! Sanjay Dutt makes us wait a little more eagerly for him to come out of prison and start doing more movies! I was looking forward to watching Boman Irani in a bigger role. Although that that didn't happen, I have no regrets as he is simply brilliant in whatever little screen time he gets. Watch out for the cameo of the year by Ranbir Kapoor! Coming to the writing of the film, it is novel, fresh and signature Raju Hirani. You can always trust the director to bring an interesting story to the table and execute it with such cinematic brilliance that will leave you awestruck! Special mention to Abhijat Joshi who wrote the film with him. The music by Shantanu Moitra is breezy, full of pleasant melodies and just apt for a film as cute as PK!
While there isn't much to say in this area I thought that the first half of the film could have been tighter with less dilly-dallying. But then again it was the director's prerogative and was perhaps needed to flesh out the plot for the audience. The plot bore uncanny resemblance to OMG (Oh! My God) which also explains the delay in PK's release. Nevertheless, that doesn't diminish the movie-viewing experience of Aamir's film.
Verdict - You cannot afford to miss this! Aamir has once again proved why he's ahead of his contemporaries as a visionary and a thinker! We bet you will watch PK more than once.
Our Rating - 5/5