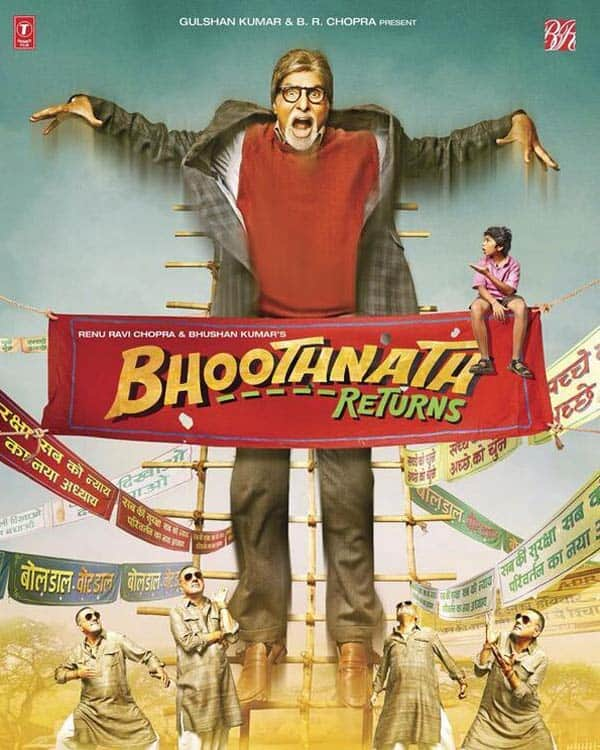 One walks into the theatre to watch Bhoothnath Returns with a lofty promise thanks to the presence of the major draw of the movie-Amitabh Bachchan! But barely have you rested your posterior and have started warming up the seat, then you realise that the real star of the show is somebody else-someone who is at least six decades younger to the big daddy of Bollywood and less than half the size of Mr Bachchan's larger than life tall frame.
Yes, the child protagonist Parth Bhalerao has delivered an effortlessly sparkling performance and some high-blown punch lines that have completely knocked down Big B's towering persona and muzzled his deep baritone. But watching this movie you ultimately salute the Shehenshah for the dignity, grace and elegance he brings to the silver-screen with his magical personality and the performance so cleverly projected that complements Parth's unabashedly brash character.
Nitesh Tiwari's Bhoothnath Returns is an enjoyable watch if you have patience and an open mind to receive a genuine effort from the maker who has his heart at the right place. Unlike the first part, that was strictly meant for entertaining kids, the second installement has a substantial plot and terrific performances from the actors that will warm the cockles of your heart. If the first half of Bhoothnath Returns is witty, clever and engaging, the second half is a tad too lengthy and laborious to sit through. But Bachchan's striking performance, Boman Irani's meanness as a local politician Bhau (yet another delectable act, by the way), Sanjay Mishra's ridiculously funny lawyer and young Parth's refreshing screen presence as Akrod will keep you hooked.

The plot:

Big B is back with a bang as a friendly and adorable ghost, but sadly his ghastly presence is not respected. Kids have a complete disregard for this bhooth and adults fail to acknowledge his BIG presence. In this sad and sorry situation walks in Akrod ( Parth Bhalerao), a slum dweller, who is known for his street smartness. Akrod can see Bhoothnath and decides to give the friendly ghost the respect and position he deserves. What does the boy get in exchange? Well, he receives the much needed bhaav as the new ghost-buster in the town with the super-natural assistance from Bhoothnath himself.
The tiny tot with the swagger of a Hollywood megastar soon starts communicating with other ghosts to vacate old, dilapidated and haunted properties as Bhoothnath uses his smart tricks for this noble endeavor. Akrod gets the much-needed moolah from the builders and real estate giants from the city as he can drive out any soul from ghost-infested lands and buildings. But soon Bhoothnath and his little friend encounter a murky situation in which local politician Bhau (Boman Irani) has played a dirty hand. The duo then begins a clean-up mission to dethrone Bhau by contesting an election.
Director Nitesh Tiwari weaves the plot engagingly and interestingly, blending issues such as blatant corruption, the ever increasing crimes and rampant scams that stem out of a bad governance. Will our Bhoothnath take on a the slimy politician who has been fooling the public, robbing them all these years and win the election without using his supernatural prowess?

What's hot?

The breezy first half will keep you in splits where Akrod and Bhoothnath warm up to each other and develop a special bond. Tiwari uses the natural pace and progression of the film without any hysteria and melodrama. His precise direction and engaging narrative complement the screenplay that's peppered with fine turn of events. The dialogues are catchy, witty and relentlessly hilarious. Sample this: Akrod tells Bhoothnath when he tries to scare a bunch of kids-Tune na thoda overacting kiya, par kya hain na India main overacting hee chalta hai!
Bachchan is supreme with his act. The 71-year-old thespian can make you smile and weep big, fat tears as he energises tremendous potenial into a performance that will met your hart. Boman Irani has proved once gain why he is one of the finest talents we have. He is the baap when it comes to employing loud expressions, subtle face contortions and micro emotions to best effect to portray a sly and slimy, ruthless and mean, politician. Sanjay Mishra as an honest lawyer will keep you in splits with his poker-faced humour. National Award winning actor Usha Jadhav, as Akrod's mother, has done her job sincerely without being melodramatic.

What's not?

The unending tutoring on the right to vote is the only off-key element of this movie. As if the director was on a mission to hammer the message on the importance of voting into our collective heads. At 160 minutes, the movie becomes a bit stretched in the second half with Big B delivering more than his regular share of lengthy monologues.

Our take:

In a nutshell, Bhoothnath Returns is a fun, entertaining and engaging drama that has reaffirmed the diktat superstars follow diligently. Never sign on the dotted line for a project that features either a cuddly puppy or an adorable kid. Even the most superlative stars ever walked the earth are reduced to the status of mere props when they share screen-space with those two screen scorchers. Kudos to Bachchan for taking that risk knowingly and yet managing to stand out (tall and impressive) even as the little Parth decided to steal the show. Isi baat par, party toh banti hai, no?
Rating:
out of 5