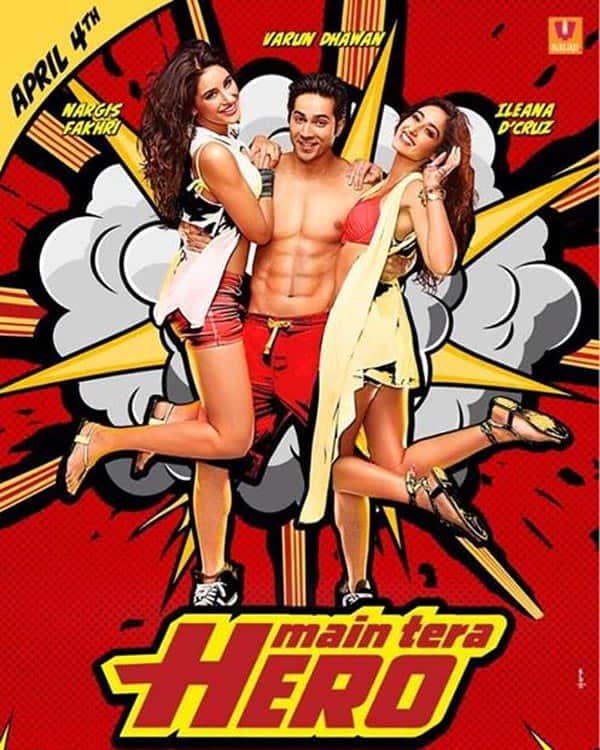 Main Tera Hero is a typical David Dhawan style movie, which is light-hearted.
The story revolves around Sreenath Prasad aka Seenu (Vaun Dhawan) the most notorious boy in Ooty. He drops out from his college in Ooty in order to pursue education in a Bangalore college. Here he falls in love with Sunaina (Ileana D' Cruz). But Sunaina is forced to marry Angad (Arunoday Singh), a local police officer, who is more of a terrorising gangster.
Seenu also has another die-hard lover in the form of Ayesha (Nargis Fakhri), of whom he is unaware till the first half. He had once saved her friends from some goons by bashing the pulp out of them and Ayesha instantly knew that he was the perfect man for her. Ayesha's father (Anupam Kher) is a big gangster and kidnaps Sunaina to get hold of Seenu and compel him to marry his daughter. Now how Seenu gets screwed up in this love triangle, and how he uses his mind and muscle to strike back and come out victorious, is the basis of the film.
Varun Dhawan has given his 200 percent in the film and David Dhawan has utilised it to the best of his abilities. Varun literally carries the entire film on his shoulders. He has a bout of untapped energy, which has undoubtedly been captured well in this film. His talents are explored and he definitely is one actor to look forward to in the near future. His performance is lively and with every dialogue he leaves an ignorant smile on your face. His dance is full on Govinda-ish and it forces you to stand up and join him with every step. There are some scenes where you actually start seeing Govinda in Varun's acting.
Ileana D' Cruz is good and surprisingly Nargis Fakhri too. Both the heroines manage to add that necessary oomph in the movie and also couple it with some good acting. Arunoday Singh is the perfect eccentric-gangster-extortionist villain in the first half, but somehow he turns comical in the second half, which isn't as good. Anupam Kher as the funny don seems more comical than terrorising. On the contrary his right hand, played by Saurabh Shukla, does a very good job and manages to terrify you and at the same time tickle your funny bone. Rajpal Yadav is also hilarious and delivers a commendable performance. Rajpal Yadav's character reminds you of Johnny Lever from any of the '90s David Dhawan flicks. Shakti Kapoor's cameo is also well-timed.
Also there is Salman Khan in the film, who acts as the voice of God as Ganesha, Krishna and Jesus!
Sajid-Wajid's music is splendid. Each track has been brilliantly composed so as to make your foot tap at every beat. Tracks like Besharmi ki height, Shanivaar raati and Palat are well choreographed as well.
The twists and turns in the film are timely. The comic timings are perfect. The facial expressions are superb. And lastly even though having an old formula, this film doesn't allow you to feel bored throughout the 128 minutes. Main Tera Hero is a full on entertainer.

Rating - 4/5